About Conference
DIABETES AND ENDOCRINOLOGY 2018
Allied Academies officially welcomes you to attend the International Conference on Diabetes and Endocrinology during June 18-19, 2018 Osaka, Japan. Diabetes congress 2018 conference will focus on the latest and exciting innovations in all areas of Diabetes and Endocrinology research offering a unique opportunity for investigators across the globe to meet, network, and perceive new scientific innovations.
Diabetes congress 2018 highlights the theme "Endeavoring health care on diabetes and endocrinology" which reflects the emerging progress being made in Diabetes research as discoveries in the lab are translated into treatments in an increasingly targeted and precise manner.
Diabetes is a group of metabolic diseases in which there are high blood sugar levels over a prolonged period. Symptoms of high blood sugar include frequent urination, increased thirst, and increased hunger. If left untreated, diabetes can cause many complications acute complications include diabetic ketoacidosis and nonketotic hyperosmolar coma. Serious long-term complications include cardiovascular disease, stroke, chronic kidney failure, foot ulcers, and damage to the eyes. Endocrinology is the study of the endocrine system in the human body. It is also concerned with the integration of developmental events proliferation, growth, and differentiation, and the psychological or behavioural activities of metabolism, growth and development, tissue function, sleep, digestion, respiration, excretion, mood, stress, lactation, movement, reproduction, and sensory perception caused by hormones.
WHY TO ATTEND?
This Conference will provide many opportunities to network and discuss science and technology about the advancements in treatments and management of Diabetes, ensure equity of opportunity, find new funding and research opportunities, and build collaborations and contacts with international colleagues to further continue one's research at the global level.
Allied academies own and operate several academic journals and conferences. Since its establishment 1995, Allied Academies promotes peer reviewed healthcare information through meetings, scholarly journals, and training to leading academic, business and research institutes across the healthcare and life science industries.
Diabetes Congress 2018 provides two days robust discussions on methods and strategies related to symptoms and management of Diabetes as well as explore new ideas and concepts on a global scale and the topics include Diabetic complications, Diabetic Medicare and its advantages, Diabetic Nutrition, Diabetes and metabolism, Alternative treatment and therapies of Diabetes, Advancement in Diabetic Treatment and Diagnosis, Energy balance, obesity and Diabetes, Present scenario and risk factor of Diabetes, Diabetic Drug market, Clinical trials in Diabetes, Diabetic Education and Research.
TARGET AUDIENCE:
Endocrinology and Diabetes students, Scientists

Medical Colleges

Endocrinology and Diabetes Associations and Societies

Business Entrepreneurs

Training Institutes

Manufacturing Medical Devices Companies
Diabetologists

Endocrinologists

Doctors

Researchers

Physicians

Business Professionals

Academic Professionals

Students

Scientists

Medical and Pharma Companies

Medical Colleges and Hospitals

Diabetes Societies and Association
Associations/ Research groups
UNIVERSITIES:
The following are the top universities having the diabetes department:
Harvard University

University of Oxford

University of Cambridge

Johns Hopkins University

Stanford University

Yale University

University of California, Los Angeles (UCLA)

Imperial College London

University of Melbourne

Karolinska Institute
Welcome Message
Allied Academies organizes Diabetes congress 2018 conference along with 300+ Conferences across USA, Europe & Asia every year with support from 1000 more scientific societies and Publishes 400+ Open access journals which contain over 30000 eminent personalities as editorial board members.
Allied Academics Cordially Welcomes all the participants and contributors from worldwide to attend the International conference on diabetes and Endocrinology conference on June 18-19, 2018 in Osaka, Japan.
We invite you to go to Upcoming Diabetes congress and submit recommendations for oral and publication introductions, instructional exercises, workshops, corporate grandstands/demos and video introductions. Every proposition will be peer-looked into by for incorporation in the gathering system and procedures book which will be distributed in journal of diabetes and as an uncommon issue.
Market Analysis
"International conference on diabetes and Endocrinology" is going to be held during June 18-19, 2108 at Osaka, Japan.
Diabetes congress 2018 conference gathers renowned scientists, physicians, surgeons, young researchers, industrial delegates and talented student communities in the field of diabetic medicine under a single roof where networking and global partnering happens for the acceleration of future research.
The conference throws light on thought provoking topics and recent research in the field of Diabetic Medications like, Type 1 Diabetes- Therapies and treatments, Type 2 Diabetes- Therapies and treatments, Diabetic Neuropathy-Treatment and Care, Management of Diabetic Heart Diseases, Management of Diabetic Kidney Diseases, Clinical Diabetic Therapeutics & Management, Islet Biology and Beta cell targeting, Computational Approaches for Diabetes, and many more. The organizing committee is gearing up for an exciting and informative conference program including plenary lectures, symposia, workshops on a variety of topics, poster presentations and various programs for participants from all over the world. We invite you to join Diabetes conference, where you are sure to have a meaningful experience with scholars from around the world. All the Organizing Committee Members of the Diabetes and Endocrinology 2018 International conference look forward to meet you in Osaka, Japan.
IMPORTANCE AND SCOPE:
The prevalence of diabetes for all age-groups worldwide was estimated to be 2.8% in 2000 and 4.4% in 2030. The total number of people with diabetes is projected to rise from 171 million in 2000 to 366 million in 2030. The prevalence of diabetes is higher in men than women, but there are more women with diabetes than men. The urban population in developing countries is projected to double between 2000 and 2030. The most important demographic change to diabetes prevalence across the world appears to be the increase in the proportion of people >65 years of age. These findings indicate that the "diabetes epidemic" will continue even if levels of obesity remain constant. Given the increasing prevalence of obesity, it is likely that these figures provide an underestimate of future diabetes prevalence.
The number of people with diabetes has risen from 108 million in 1980 to 422 million in 2014. The global prevalence of diabetes* among adults over 18 years of age has risen from 4.7% in 1980 to 8.5% in 2014. In 2012, an estimated 1.5 million deaths were directly caused by diabetes and another 2.2 million deaths were attributable to high blood glucose. Almost half of all deaths attributable to high blood glucose occur before the age of 70 years1. WHO projects that diabetes will be the 7th leading cause of death in 2030.
Diabetes congress 2018 will feature the latest developments in research, diagnosis and prevention and management of diabetes, new insulin analogues and new technologies and devices for diabetic prevention, and for treating obesity and many more. Not only will this innovative conference enhance your practical and theoretical knowledge, it will provide you with the unique opportunity to network with a wide range of professionals in the field of diabetes technologies and treatments.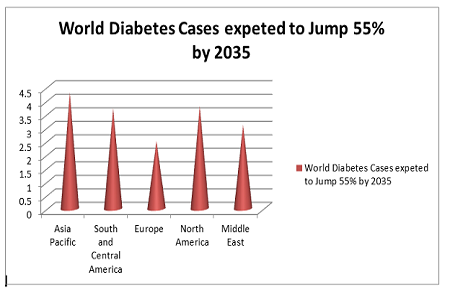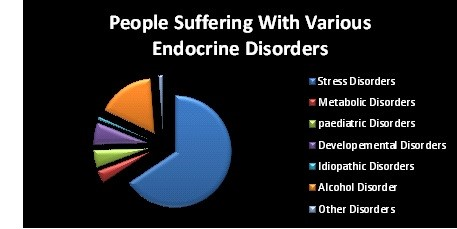 Based on diagnostic technologies, the tandem mass spectrometry diagnostic technique was the largest segment of the global endocrine testing market. The report also names immunoassays and sensor technologies as rapidly growing segments of the global endocrine testing market. The report also cites findings published by Elsevier, Inc., which examine the geriatric population above 65, of which 13.7%, have subclinical hypothyroidism and 1.7% have hypothyroidism. Owing to the increasing number of diabetics all over the world, the global endocrine testing market's fastest growing testing segment is set to be the insulin test. The ambulatory care centres segment is set to show the fastest growth rate within the report's forecast period. Top reasons for this segment's growth are a speedier response rate and lower costs than the ones a patient would otherwise incur. The home-based tests segment is also showing promising development opportunities and is predicted to gain a greater market share in the near future. On the other hand, commercial laboratories will continue to gain momentum in terms of revenue generation and consequently invest more in further research. The report also cites information released by the World Health Organization (WHO), in which the WHO states its prediction of diabetes becoming the seventh leading cause of death in the world by 2030. Nearly 80% deaths related to diabetes occur in middle-to-low-income homes, as the disease is exacerbated by poor management.
WHY OSAKA?
Osaka is the world's 3rd safest city, second largest metropolitan area in Japan and among the largest in the world with over 19 million inhabitants. Osaka has served as the capital of Japan for centuries, been a port of entry for international exchange. In more modern times, it has been a bastion of commerce and finance, and played a major role in Japan's industrial and economic development. Osaka has a plethora of tourism resources to note a cityscape that has given it the name of a Aqua metropolis. Easily accessible from within Japan and abroad by multimodal transportation networks that feature Japan's only 24-hour airport in the Kansai International Airport, Osaka welcomes around 210 million visitors every year for business, pleasure or what have you.
The Osaka-Umeda terminal is used by an average of around 2.5 million people each day. "Grand Front Osaka" was opened in April 2013 as a new "town" at the gateway to Osaka. It has the greatest number of manufacturing establishments in Japan with 18,229 companies. It is an area where the artisan spirit lives on, with more than 60% of industrial production in small and medium-sized enterprises that take the top share globally. It forms an essential industrial base (supporting industry) for the development of new growth sectors and cutting-edge products.
WHY JAPAN?
Japan is the 3rd largest economy in the world. It has a GDP 1.5 the size of UK and per capita GDP 6 times that of China; Japan remains the high-tech power house economy of Asia. It is the second highest spending worldwide on R&D, Japanese companies remain amongst the most technologically valuable and advanced in the world. Japan's major growth driver is exports despite external demand accounting for 16% of its total GDP.